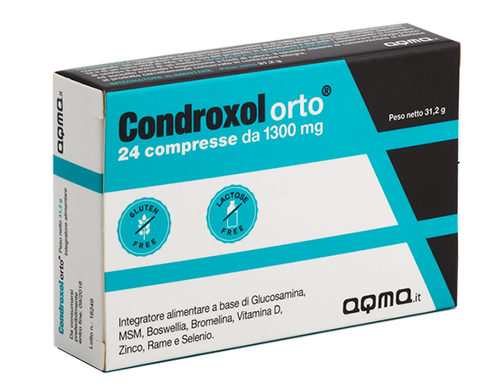 Product
Condroxol orto® is a food supplement based on glucosamine, MSM, boswellia, bromelain, vitamin D, zinc, copper and selenium. It contains a powerful mix of active ingredients with a high concentration, whose efficacy is recognized in clinical practice. Condroxol Orto is a natural anti-inflammatory with mild analgesic action used in non-acute conditions associated with the different kinds of osteoarticular traumas.
Active ingredients
Glucosamine, METHYLSULFONYLMETHANE, boswellia, bromelain, vitamin D, zinc, copper and selenium
Ingredients
Dry extract of Boswellia resin (Boswellia serrata Roxb. Ex Colebr.) Tit. 65% in boswellic acids, Glucosamine D-sulphate salt potassium (contains crustaceans), Bromelain 2500 GDU / g, Methylsulfonylmethane (MSM), Bulking agent: microcrystalline cellulose; Maltodextrin, Corn starch, Zinc gluconate, Anti-caking agents: Magnesium stearate, Polyvinylpyrrolidone, Silicon dioxide; L-selenomethionine, Copper gluconate, Vitamin D (Cholecalciferol).
How to use
We recommend one tablet twice a day, one in the morning and one in the evening,
For a cycle of about 3 months.
Nutriction facts
| Ingredients | For dose/day in mg (2 tablets) | %NRV* |
| --- | --- | --- |
| Glucosamin | 300 mg | - |
| MSM | 300 mg | - |
| Boswellia | 600 mg | - |
| Boswellia acids | 390 mg | - |
| Bromelain | 400 mg | - |
| Zinc | 12.5 mg | 124 |
| Selenium | 80 mcg | 146 |
| Copper | 1.8 mg | 180 |
| Vitamin D | 20 mcg | 400 |
*NRV = Nutrient Reference Value (adults) - Reg. (EU) No. 1169/2011
Warning
Keep out of reach of children under three years.
Do not exceed the recommended dose.
Dietary supplements are not intended as a substitute for a varied, balanced diet and a healthy lifestyle. During pregnancy and breastfeeding ask your Doctor for advise.
Storage
Keep tightly closed, in a cool and dry place avoiding exposure to heat sources.
Expiration date refers to unopened package properly stored.
Gluten and lactose free
Made in Italy
Scientific evidences on active ingredients

1. Drovanti A, et Al. Therapeutic activity of oral glucosamine sulfate in osteoarthrosis: a placebo-controlled, double blind investigation. Clinical Therapeutics, 1980; 3 ( 4 ): 260-272. 2. Noriyuki Kanzaki, 1 Yuta Otsuka, 1 Takayuki Izumo, 1 Hiroshi Shibata, 1 Hideyuki Nagao,
2. Efficacy of methylsulfonylmethane (MSM) in osteoarthritis pain of the knee: a pilot clinical trial Dr L.S. Kim, N.D.†, (Medical Director), Dr L.J. Axelrod, N.D. (Professor), Dr P. Howard, M.D. (Medical Director), Dr N. Buratovich, N.D. (Chair), Dr R.F. Waters, Ph.D. (Chair).
3. Efficacy of methylsulfonylmethane supplementation on osteoarthritis of the knee: a randomized controlled study-Eytan M. Debbi*†, Gabriel Agar, Gil Fichman, Yaron Bar Ziv, Rami Kardosh, Nahum Halperin, Avi Elbaz, Yiftah Beer and Ronen Debi.
4. Usha P.R., Naidu MUR. Randomised, Double-Blind, Parallel, Placebo-Controlled Study of Oral Glucosamine, Methylsulfoylmethane and their Combination in Osteoarthritis. Clinical Drug Investigation 24 ( 6 ): 353-363, 2004.
5. Bromelain as a Treatment for Osteoarthritis: a Review of Clinical Studies Sarah Brien,* George Lewith, Ann Walker, Stephen M. Hicks, and Dick Middleton.
6. Management of osteoarthritis (OA) with the pharma-standard supplement FlexiQule (Boswellia): a 12-week registry. Belcaro G, Dugall M., Luzzi R., Ledda A., Pellegrini L., Hu S., Ippolito E
7. Copper, iron, and selenium dietary de_ciencies negatively impact skeletal integrity: A review-Medeiros DM.