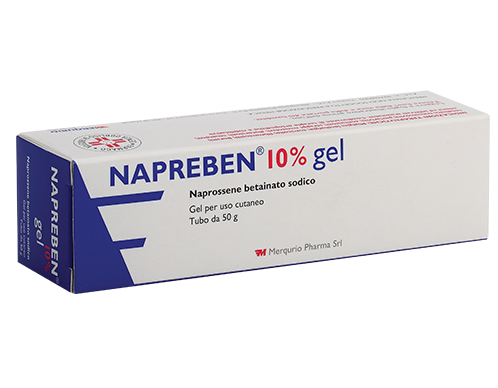 Product
NAPREBEN gel belongs to a group of medicines called "Non-Steroidal Anti- Inflammatory Drugs" (NSAIDs). These drugs reduce pain and inflammation.
Napreben gel has an elementary and balanced formulation without alcohol and fragrances. Due to its specific composition, it has a high topical tolerance, reducing the risk of allergies and topical inflammation.

Active ingredients
Naproxen betainate sodium 5 g
How to use
3 applications per day.
Warning
Read carefully leaflet before starting applications. You should avoid using gel on wounds. The use of this product for topical application, especially if prolonged, may give rise to sensitization reactions.
To prevent photosensitivity or hypersensitivity reactions, you should avoid the direct exposure to sunlight and sunlamps while using Napreben gel and for the next two weeks.
If you are pregnant or breast-feeding, think you may be pregnant or are planning to have a baby, ask your doctor or pharmacist for advice
Storage
Keep this medicine in a dry and cool place, and out of sight and reach of children
Alcohol and fragrance free
Made in Italy
Scientific evidences on active ingredients

1. Prof. Giorgio Poggi et al., Valutazione del Pain Relief ottenuto con la somministrazione topica di un nuovo derivato salino del Naproxene (Napreben) [evaluation of pain relief after topical administration of a new Naproxen salt form (Napreben)], fondazione clinica del lavoro - Istituto Ricovero e Cura a Carattere Scientifico Centro medico di Riabilitazione di Montescano, 1988.
2. Prof. Renato Lucchi et al. Evaluation of therapy with Naproxen betaine sodium (Napreben) in patients with painful symptoms and functional impairment affecting the osteoarticular system. Estense Hospital, Modena, 1987.
3. Prof. Maggi G. et al., Bioavailability investigation of naproxene betaine sodium salt (Napreben capsule 550 mg) against naproxene sodium salt (Synflex tablets 275 mg) in healthy volunteers, 1987.