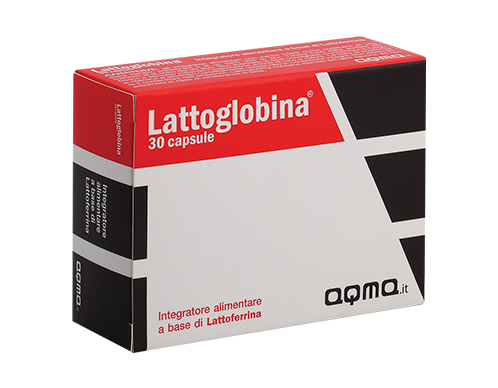 30 capsules containing 100 mg of lyophilized lactoferrin.
Product
Lattoglobina® is a food supplement based on lactoferrin, derived from cow's milk.
Active Substance
Lactoferrin is a glycoprotein from the transferrin family characterized by a high iron complexation capacity. It is present in higher amounts in the colostrum and milk of most mammals, but also in many body fluids such as saliva, nasal secretions, tears, vaginal secretions etc. Studies on the three-dimensional structure of Lactoferrin have highlighted the presence of two lobes similar to each other, each of which has a site capable of reversibly binding a ferric ion (Fe3 +). Furthermore, the structure of Lactoferrin is characterized by different glucidic chains, such as galactose, mannose, fucose, which can vary depending on its different origin. The affinity of lactoferrin to iron is 300 times higher than that of other transferrines.
Biological functions
Lactoferrin main action of regulating iron absorption has been subject of several studies for understanding the mechanism of action involved in this important biological function.
Lactoferrin appears to be involved in a complex mechanism of activation of proteins responsible for the release of iron from tissues to circulation. Iron, made available, can then be reused for synthesis of hemoglobin, an important constituent of red blood cells. In addition of these assumptions, recent clinical evidences show that Lactoferrin, administered orally, increases blood concentration of hemoglobin, as well as serum concentration of total iron. Furthermore, Lactoferrin has a marked antimicrobial action and is considered an important component of mucosal defense system. It contributes to inhibition of pathogenic microorganisms and is involved in various functions related to immunostimulation, anti-inflammatory and antioxidant activity.
Use
Lattoglobina® can be useful for a physiological improvement of iron metabolism, especially in cases of deficiencies due to poor nutrition or situations of increased need for iron.
How to use
We recommend taking 1 capsule 2 times a day (equal to 200 mg of Lactoferrin), between meals.
Ingredients
Lyophilized lactoferrin from cow's milk; Cornstarch; Gelatin; Bulking agent: microcrystalline cellulose; Anti-caking agent: vegetable magnesium stearate; Colorant: Titanium dioxide.
Nutrition Facts
2 capsules Lyophilized lactoferrin 200 mg
Tolerability
Use of Lactoferrin at a dose of 200 mg / day is well tolerated. No adverse events were observed in studies conducted in pregnant women treated with Lactoferrin. Lactoglobina® is therefore free of the typical side effects, such as nausea, vomiting, constipation, abdominal pain, correlated with intake of compounds containing iron. Please ask your doctor for a correct use of the product.
Warnings
Food supplements are not intended as a substitute for a varied and balanced diet and a healthy lifestyle.
Keep out of reach of children under three years of age.
Do not exceed the recommended daily dose. Store in a cool, dry place avoiding exposure to light and heat.
The minimum storage term refers to the product properly stored in unopened package.
James M. Jay, A. Tedesco, P.M. Falcone, E. Gala, Martin J. Loessner, F. Licciardello, David A. Golden. Microbiologia degli alimenti. Springer p. 341.
Generally recognized as safe (gras) determination for cow's milk-derived lactoferrin as a component of cow's milk products and chewing gum. http://www.accessdata.fda.gov/scripts/fcn/gras_notices/GRN000464.pdf
Manzoni et al.: Bovine lactoferrin supplementation for prevention of late-onset sepsis in very low-birth-weight neonates: a randomized trial. JAMA. 2009 Oct 7;302(13):1421-8. doi: 10.1001/jama.2009.1403.
Artym J, Zimecki M. The role of lactoferrin in the proper development of newborns. Postepy Hig Med Dosw. 2005;59:421-32. Review. Polish.
Paesano R. et Al. Ipoferremia e anemia da carenza di ferro in gravidanza. Evidenze cliniche della maggiore efficacia della lattoferrina, somministrata per os, rispetto al solfato ferroso. Il Ginecologo. Rivista di Ostetricia e Ginecologia 3 (suppl. al n. 1):1-6, 2008.
Paesano R. et Al. Oral administration of lactoferrin increases hemoglobin and total serum iron in pregnant women. Biochem. Cell. Biol. 84: 377- 380, 2006.
Costantino D, Guaraldi C. Lattoferrina e anemia in gravidanza. Rivista Italiana Di Medicina Perinatale 2005, Settembre, vol. 7, n.3, 15-20.
Valenti et al, 2008 Valenti P, Pacifici E, Pietropaoli M et al. La lattoferrina per os, un'importante alternativa priva di effetti indesiderati, nella prevenzione e trattamento dell'ipoferremia ed anemia da carenza di ferro in gravidanza. Riv It Ost Gin 2008.
D., Guaraldi C. Anemia sideropenica in gravidanza: Lattoferrina vs ferro in varie formulazioni e idrolizzato di cartilagine di pesce marino. Il Ginecologo, Rivista di Ostetricia e Ginecologia Vol 4, Suppl. al No. 1 Marzo 2009.
Hiraku Onishi Lactoferrin delivery systems: approaches for its more effective use.
Suzuki Y.A., Lopez V., Lönnerdal B. Mammalian lactoferrin receptors: structure and function. Cell Mol Life Sci. 2005; 62(22): 2560-75.
Ashida K., Sasaki H., Suzuki Y.A. et al. Cellular internalization of lactoferrin in intestinal epithelial cells. Biometals. 2004; 17(3): 311-5.
Vicariotto F. Lattoferrina: l'alternativa alla terapia marziale. Edit-Symposia Ginecologia & Ostetricia 2008/1.
World Health Organization (WHO). The prevalence of Anaemia in women: a tabulation of available information. Geneva, Switzerland: WHO; 1992. WHO/MCH/ MSM/92.2.
Feirbanks V.F., Beutler E. Iron deficiency. In: Beutler E., Lichtman M.A., Coller B.S., Kipps T.J., eds. Williams Hematology. New York: McGraw-Hill; 2001. p. 447-70.
Bothwell T.H. Iron requirements in pregnancy and strategies to meet them. Am J Clin Nutr. 2000; 72(suppl): 257-64.
Harris E.D. New insights into placental iron transport. Nutr Rev. 1992; 50(11): 329-31.
Cheng Y., Zak O., Aisen P. et al. Structure of the human transferrin receptor-transferrin complex. Cell. 2004; 116: 565 76.
Allen L.H. Anemia and iron deficiency: effects on pregnancy outcome. Am J Clin Nutr. 2000; 71(Suppl): 1280-4.
School T.O. Iron status during pregnancy: setting the stage for mother and infant. Am J Clin Nutr. 2005; 81: 1218-2.
Leidi L. 2007, Lattoferrina: un nuovo approccio terapeutico per il trattamento dell'anemia sideropenia. Integratori terapeutici e fitoterapici nell'età riproduttiva, dello sviluppo ed avanzata. Ed 2007.