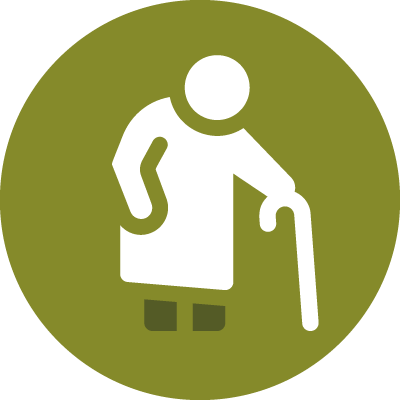 Geriatrics is a branch of gerontology studying therapeutic, dietetic and hygienic means capable of delaying the physiological aging process, or of preventing and treating the pathological processes of senile age.
Gerontology is the science that studies aging and old age.
Population aging is a global phenomenon.

According to the World Health Organization (WHO), in almost all countries of the world, the proportion of people over 60 is increasing faster than other age groups. It is estimated that in 2050 people over 60 will be almost 2 billion (more than triple compared to 2005) and will represent around a quarter (22%) of the world population.

This evolution means an increase in life expectancy "in good health" or without disabilities for older people. In perspective, ratio between the number of elderly subjects and those in the age group ≤14 years is also expected to increase. Over time there are changes that do not have a pathological cause (loss of memory, loss of vision, loss of bladder elasticity, difficulty in absorbing food, chronic inflammatory states, loss of tone and elasticity of blood vessels, etc). Body changes with age, because changes occur in individual cells and entire organs. These changes might change function and appearance.

In particular, musculoskeletal system is weakened with frequent inflammatory and painful phenomena, physiological capacity of intestinal absorption is reduced, favouring development of deficiency states, in particular of trace elements such as iron, which may cause anaemia and related pathologies; functionality of vascular and circulatory system is reduced favouring the onset of venous insufficiency and related pathologies. A correct lifestyle, correct eating habits, associated with correct integration, represent essential elements to support healthy physiological aging.
Flavofort1500®
is a nutritional supplement based on micronized flavonoids (diosmin, rutin, quercetin, hesperidin), vegetable extracts of Centella, blackberry, red grapevine and vitamin C. Centella, red grapevine and blackberry are useful for the physiological functionality of the microcirculation, thus helping to reduce the feeling of heaviness and fatigue in the legs.
Flavofort1500®
leg cream contains Blackberry, Centella asiatica, Sodium hyaluronate and Melilotus. Gives a feeling of well-being in the areas where applied. It gives relief to heavy and tired legs even in the presence of alterations of the microcirculation. Helps keep the skin compact, soft, smooth and toned, favoring skin hydration.
Medronys colesterolo®
is a nutritional supplement based on Artichoke, Berberis, Fenugreek, Olive with Astaxanthin. The artichoke maintains the normal metabolism of lipids, berberis maintains the regular functionality of the cardiovascular system, fenugreek favors the metabolism of carbohydrates, triglycerides and cholesterol.