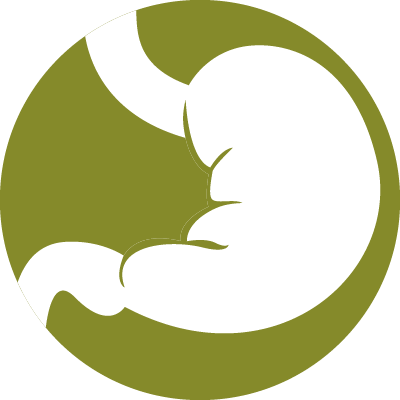 Gastroenterology is a medical branch dealing with study of gastrointestinal system and related diseases. Gastrointestinal system and its correct functioning have a fundamental importance for well-being of our body. Simply looking at stomach and intestines surface we can understand their value in human life. There are studies defining our intestine as "a second brain". Intestine seems to be precisely the physiological fulcrum of health and well-being. Therefore, it is easy to understand how much intestine health may affects our psyche, and vice versa.

In addition, pathologies of gastrointestinal system can often generate other problems such as anaemia or venous insufficiency, including hemorrhoidal syndromes. Therefore, best way for a better life includes preserving our gastrointestinal system with healthy habits and lifestyles. Physiological functioning of our gastrointestinal system is related to a dynamic metabolism.

We often read of "metabolic syndrome" as a clinical condition characterized by a set of risk factors that increase the chance of incurring cardiovascular, liver and metabolic diseases. Usually it starts with a metabolic imbalance involving liver, our biochemical centre regulating lipid and carbohydrate metabolism essential for our life.

Metabolic alterations, often not evident, can appear as hepatic steatosis defined as "fatty liver" in common language and/or dyslipidemic syndromes characterized by alterations in values ​​of lipids in blood.

Cardiometabolic pathologies are conditions affecting heart or blood vessels and represent the main cause of death worldwide. Proper functioning of all organs involved in metabolic processes is essential to preserve our state of health mainly with advancing age.
Flavofort1500®
is a nutritional supplement based on micronized flavonoids (diosmin, rutin, quercetin, hesperidin), vegetable extracts of Centella, blackberry, red grapevine and vitamin C. Centella, red grapevine and blackberry are useful for the physiological functionality of the microcirculation, thus helping to reduce the feeling of heaviness and fatigue in the legs.
Flavofort1500®
leg cream contains Blackberry, Centella asiatica, Sodium hyaluronate and Melilotus. Gives a feeling of well-being in the areas where applied. It gives relief to heavy and tired legs even in the presence of alterations of the microcirculation. Helps keep the skin compact, soft, smooth and toned, favoring skin hydration.
Medronys colesterolo®
is a nutritional supplement based on Artichoke, Berberis, Fenugreek, Olive with Astaxanthin. The artichoke maintains the normal metabolism of lipids, berberis maintains the regular functionality of the cardiovascular system, fenugreek favors the metabolism of carbohydrates, triglycerides and cholesterol.